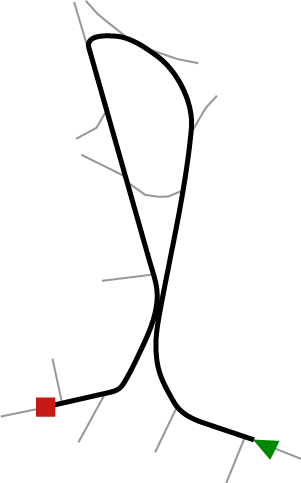 Every single street in Boston is one-way, the wrong way. At least, that's what I've believed since I lived there - no matter where you want to go, the roads that appear to form the most direct route will inevitably carry traffic only in the opposite direction. And somehow that remains true when you try to drive back!
Until today, this was just a thought I kept to myself, except to commiserate with other Boston drivers. But now, Andy Woodruff at Cartogrammar (last seen on TGR mapping the colors of Harvard Square) has exposed this bizarre phenomenon to the world. Andy has mapped out a selection of Boston routes which look short and simple as the crow flies but end up being circuitous nightmares thanks to the city's bizarre traffic patterns.
I immediately recognized the first (above) as the loop of Cambridge Common in Harvard Square - anyone familiar with the rest?
(Via Cartogrammar)